Ad blocker interference detected!
Wikia is a free-to-use site that makes money from advertising. We have a modified experience for viewers using ad blockers

Wikia is not accessible if you've made further modifications. Remove the custom ad blocker rule(s) and the page will load as expected.
Hi all
I've found a few nice pics of Andraia here and was wondering if I could make a little hard request :P I'm obssesed since I watched this show years ago, with Andraia's back and arms tattoo. You know, it looks like blue scales growing from her back bottom, or something like that.
I only remember one chapter where it was very clear, The Episode With No Name, during the fight against that yellow woman. The bad thing is that I haven't found yet a good quality video from which screenshooting it, so if anyone could help me with a link or with the actual picture, I would be so very thankful.
Thanks in advance ^_^
--Tuya Suya 22:55, January 7, 2010 (UTC)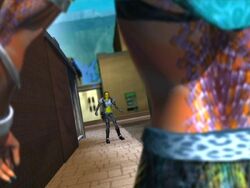 Here's a picture of AndrAIa's back from the "Episode With No Name." I found it on the Starman ReBoot site. --Preator 23:23, January 7, 2010 (UTC)
Wow! Nice and quick! Thank you very very much, I'll check that site. Gosh you made me so happy xD --Tuya Suya 23:40, January 7, 2010 (UTC)