Ad blocker interference detected!
Wikia is a free-to-use site that makes money from advertising. We have a modified experience for viewers using ad blockers

Wikia is not accessible if you've made further modifications. Remove the custom ad blocker rule(s) and the page will load as expected.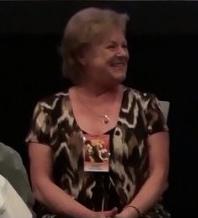 Shirley Millner is a canadian voice actress that is famous on ReBoot for being the voice of Hexadecimal.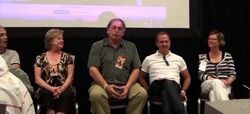 In a rare public appearance, Shirley Millner joined most of the main cast of ReBoot at the Canadian Anime Convention in 2009 for a ReBoot panel.
Shirley Millner has played several parts in animation through the years. Below is a list of some of the parts she has played.
"Consortium" (2014) .... Queen
"Black Lagoon" (2009-2013) .... Sister Yolanda
"Class of the Titans" .... Gaia (1 episode, 2006)
"ToddWorld" .... Mitzi The Cat (1 episode)
"Ark" (2005)  .... Old Cevean Woman
"Joe" (2003) (voice)

"Gadget and the Gadgetinis" (4 episodes, 2003)
"Silverwing" .... Bathsheba (13 episodes)
"Master Keaton" (2003) TV series .... Mrs. Burnham (unknown episodes)
"Monster Rancher" .... Lead Seed Sister / Rosetta ... (2 episodes, 1999-2001)
"ReBoot" .... Hexadecimal (17 episodes, 1994-2001)
ReBoot: Daemon Rising (2001) (TV) (voice) .... Hexadecimal ... aka Reboot: The Movie (Canada: English title: promotional title)
"Super Duper Sumos" (2001) TV series .... Additional Voices (unknown episodes)
"Dragon Tales" .... Doctor Booboo Gone (2 episodes, 1999-2001)
Little Witch (1999) (TV) (voice) (as Shirley Milner) .... Grouchy Witch
Reboot (1998) (VG) (voice) .... Hexadecimal
"Stories from My Childhood" (1 episode, 1998)... aka "Mikhail Baryshnikov's Stories from My Childhood" (USA: complete title)
Xiao Qian (1997) (voice: English version) .... Madame Trunk
"The Littlest Pet Shop" (1995) TV series (voice) .... Delilah
"Mega Man" (1994) TV series .... Additional Voices (2 episodes)
"Hurricanes" (1993) TV series (voice)
"Deadly Deposits" (1993) (voice)
"Heidi" (1991) .... Grandmother (voice) "Leo and Me" (1981) TV series "House of Pride" (1974) TV series .... Carol Dowhan

Reboot: Fast Forward: The Making of ReBoot (1995) (TV) (archive sound) .... Hexadecimal