Scott McNeil is an Australian-born voice actor. He is known on Reboot for voicing Hack in the later seasons of the show and the two movies. He also voiced Fax Modem and Specky.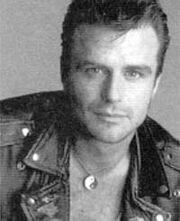 Scott McNeil was born September 15, 1962 in Brisbane, Australia. He currently resides in Vancouver, British Columbia, Canada. He began acting at the age of 3 and fell in love with theater. He went to theater school after high school where he met soon to be fellow voice actor Ted Cole. After Scott left school he planned on being an actor in theater.
He met someone who was directing the cartoon GI Joe in the 80's and he got into voice acting. Scott started in "The New Adventures of He-man" back in 1989 and made a name for himself by getting into many more cartoon series after that. He is a frequent guest at BotCon events, anime cons and is known to conduct conversations with himself in his various Beast Wars and DragonBall Z-style voices. He is sometimes nicknamed, "the man of 1,000 voices."
Hack was first voiced by Phil Hayes.
Among Scott's career in voice acting, he is most noted for his roles in "Bucky O'Hare and the Toad Wars" (1991), "Mummies Alive!" (1997), "War Planets" (1998), "Escaflowne" (2000), "X-Men: Evolution" (2000), "Rudolph and the Island of Misfit Toys" (2001), "Sitting Ducks" (2001), "Bionicle: Mask of Light" (2003), "Scary Godmother Halloween Spooktakular" (2003) and "Krypto the Superdog" (2005).
Presently, Scott is now providing the voice of 'Stork' from Nerd Corps' CGI animated series "Storm Hawks".
Ad blocker interference detected!
Wikia is a free-to-use site that makes money from advertising. We have a modified experience for viewers using ad blockers

Wikia is not accessible if you've made further modifications. Remove the custom ad blocker rule(s) and the page will load as expected.