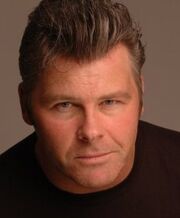 Phillip Maurice "Phil" Hayes is a British-American voice actor and comedian who has done much voice work and voice over. He is known on ReBoot for voicing Hack during the earlier seasons of the show.
Phillip Hayes was born on 28 February 1958 in Bolton, Greater Manchester, England, United Kingdom. His best-known voice is playing the dim-witted robot chicken, Scratch, in the US television program Adventures of Sonic the Hedgehog. He also has appeared in many on-screen television and movie roles. Another notable role was Billy Holme in Age of Empires III: The War Chiefs.
Hack was later voiced by Scott McNeil.
External Links
Edit
Ad blocker interference detected!
Wikia is a free-to-use site that makes money from advertising. We have a modified experience for viewers using ad blockers

Wikia is not accessible if you've made further modifications. Remove the custom ad blocker rule(s) and the page will load as expected.