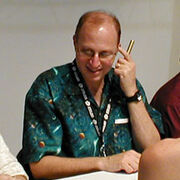 Marv Wolfman was a writer for ReBoot. His work helped develop episodes of ReBoot Season 3, including To Mend and Defend, Mousetrap and System Crash.
Born on 13th May 1946, in Brooklyn, New York, USA.
A former Editor-In-Chief of Marvel Comics, Marv is the longtime comic writer of "New Teen Titans" for DC Comics and Marvel Comics' "Tomb Of Dracula" series, which is where Blade the Vampire Hunter made his first appearance. The character was later adapted to film form with Wesley Snipes in the starring role.
Wrote the landmark DC Comic series "Crisis on Infinite Earths".
Also noted for creating the character 'Bullseye' from "Daredevil" comics and the current iteration of Robin (Robin III/Tim Drake) for DC comics. The character has remained popular for nearly twenty years and has its own self-titled long-running series.

This article is incomplete, please help us to input more information
Ad blocker interference detected!
Wikia is a free-to-use site that makes money from advertising. We have a modified experience for viewers using ad blockers

Wikia is not accessible if you've made further modifications. Remove the custom ad blocker rule(s) and the page will load as expected.