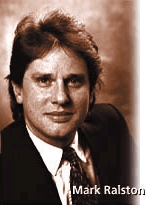 Mark Ralston was an Executive in Charge of Production for ReBoot.
Working in Mainframe Entertainment Inc. he was also an Executive/Producer for syndicated CGI series "Beast Machines", "Transformers", "Action Man", "Casper's Haunted Christmas" and "War Planets - Shadow Raiders".
This article is incomplete, please help us to input more information
Ad blocker interference detected!
Wikia is a free-to-use site that makes money from advertising. We have a modified experience for viewers using ad blockers

Wikia is not accessible if you've made further modifications. Remove the custom ad blocker rule(s) and the page will load as expected.