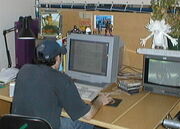 Marco Tremblay was a modeler for ReBoot Season 3.
Marco was involved in television series "Beast Wars: Transformers" (1996) as a production assistant. After completing the syndication of ReBoot's third season he left the Canadian studio to work for Hybride Technologies as CG animator on various productions such as "Spy Kids" (2001) and "Once Upon a Time in Mexico" (2003). Tremblay later rose to lead 3D artist for "Sky Captain and the World of Tomorrow" (2004) before becoming the lead modeler for "Sin City" (2005).
His other notable works include visual effects for "Snakes on a Plane" (2006) and "300" (2006) along with the IMAX filmride of the feature.
While working with Mainframe Entertainment Marco was rebuted to have a small model of Rocky The Rabid Raccoon always on his workstation.

This article is incomplete, please help us to input more information
External Links
Edit
Ad blocker interference detected!
Wikia is a free-to-use site that makes money from advertising. We have a modified experience for viewers using ad blockers

Wikia is not accessible if you've made further modifications. Remove the custom ad blocker rule(s) and the page will load as expected.