Home
Talk

1
533pages on
this wiki


The ReBoot Wiki
Welcome to the ReBoot Wiki site. This is a complete encyclopedia of the television show ReBoot. This site was started in November 2007. We hope that you enjoy the site and please help us update and correct any information you can. Thank you for coming.

To write a new ReBoot Wiki article, enter the page title in the box below.
---
Featured Article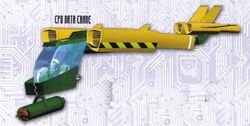 The CPU Fighter is a small sleek vehicle used in Mainframe's CPU Defense Force. The fighter is a Data Crane modified for use in combat. They are less shielded than the CPU Car but they are the fastest and most maneuverable vehicle in the CPU's. The difference between the CPU Fighter and a standard Data Crane is that Fighters are owned by the city and are green and yellow like all other CPU craft. Data Cranes are completely yellow and are owned by private companies.
The cockpit is very small, only capable of having two people in it at any given time.