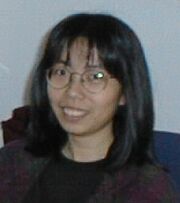 Mabel Chan was a computer animator for ReBoot Season 3, Daemon Rising and My Two Bobs. She was also Senior Animator for the episode Firewall.
Mabel joined Mainframe Entertainment in '96 as an animator for their CGI television series "Beast Wars: Transformers", in 1997 she worked on ReBoot's third season as an animator/artist. Mabel also helped develop several episodes of "Action Man" (2000) before working on the two 'ReBoot' movies syndicated as the fourth season.
She left the studio to join Piranha Games Inc., a Canadian computer game developer based in Vancouver, British Columbia. There Chan worked in the Art Department for their first-person shooter PC video game "Die Hard: Nakatomi Plaza", published by 'Sierra Entertainment' and released in Spring 2002.
From 2004 Mabel Chan presently works in the Computer Games industry with 'Backbone Entertainment' as their Lead Level Artist and has been credited in the production of multi-platform titles such as "Sonic Rivals" and "Age of Empires: The Age of Kings".
External Links
Edit
Ad blocker interference detected!
Wikia is a free-to-use site that makes money from advertising. We have a modified experience for viewers using ad blockers

Wikia is not accessible if you've made further modifications. Remove the custom ad blocker rule(s) and the page will load as expected.