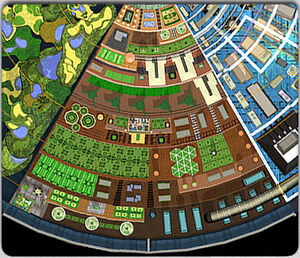 Kits Sector is the main residential district of Mainframe. Eight-Ball Apartments is located there and is where Bob lives. Mike the TV lived there for a while until he moved to Lost Angles.
Kits Sector is located between Floating Point Park and Baudway Sector. The Gilded Gate Bridge to Lost Angles is located between Kits Sector and Floating Point Park.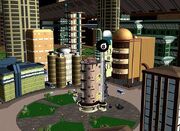 The Saucy Mare docked in Kits Sector when the software pirates looted Mainframe. (The Crimson Binome)
Nullzilla moved from Lost Angles into Kits Sector during it's rampage. The massive Null monster destroyed several buidlings in the residential district. Mainframe's leaders used a Giant Robot to fight the monster, but the battle destroyed more buildings in Kits, including Bob's apartment. (Nullzilla)
At the beginning of the Net War, Kits Sector was the only sector under attack when Daemon's Guardian Armada attacked Mainframe.
Hexadecimal brought Bob to Kits Sector when he fell ill during the attack on Mainframe by the Guardian Armada. She thought it would be a romantic area for them to spend some time together and for him to recover from the fight. (Daemon Rising)
The Null Coccoon that Hexadecimal used to protect herself from a viral scan was formed in Kits Sector near the Eight Ball Apartments building. (Daemon Rising)
Several apartment buildings in Kits Sector were damaged and destroyed when Hexadecimal battled Daemon for Mainframe. (Sacrifice)
Ad blocker interference detected!
Wikia is a free-to-use site that makes money from advertising. We have a modified experience for viewers using ad blockers

Wikia is not accessible if you've made further modifications. Remove the custom ad blocker rule(s) and the page will load as expected.