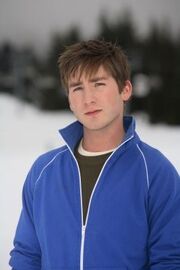 Jessie Moss (also credited as Jesse Moss) is a canadian born actor known on ReBoot for the original voice actor to provide the voice of Enzo Matrix in Season one.
Jessie Moss was born on May 4th, 1983 in Vancouver, British Columbia, Canada. His parents are Catherine and Richard Moss.
Jessie left 'ReBoot' after the season one episode The Great Brain Robbery, where he was succeeded by Matthew Sinclair who later took over voicing Enzo and continued until the end of Web World Wars. He returned later in season three to voice the Binome thief character Slimey Goober in the episode The Episode With No Name.
Jessie Moss is also well known for his work in the movies "Final Destination 3" and "Whister". He also played a character named 'Jason' several times for two television series "Are you afraid of the dark?" and "Ginger Snaps". In 2007/8 Moss was nominated Leo Awards for 'Best Lead Performance by a Male in a Dramatic Series' in "Whistler" (2006) for the episodes "Out of Bounds" and "Fallen".

This article in incomplete. Please help us to input more information
External Links
Edit
Ad blocker interference detected!
Wikia is a free-to-use site that makes money from advertising. We have a modified experience for viewers using ad blockers

Wikia is not accessible if you've made further modifications. Remove the custom ad blocker rule(s) and the page will load as expected.