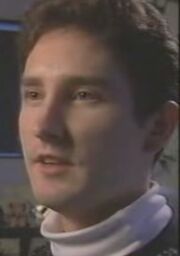 Deryk Tappin was a computer animator for ReBoot season 3, ReBoot: The Ride, and a Modeler in the two movies Daemon Rising and My Two Bobs.
Deryk started in the entertainment industry with "RoboCop" (television series) in 1994 as a digital artist. He later joined Mainframe Entertainment to work on ReBoot's third season. Inbetween various development projects, IMAX filmrides and productions, Tappin was modelmaker for "Casper's Haunted Christmas" (2000) and "Spider-Man" television series up until 2003.
After leaving the studio that year Deryk was employed with Electronic Arts Canada, entering the video games industry where he developed titles for multiple console format releases including games credited for "SSX 3" (2003), "NBA Street V3" (2005), "FIFA Street" (2005) and "FIFA Street 2" (2006)

This article is incomplete, please help us to input more information
External Links
Edit
Ad blocker interference detected!
Wikia is a free-to-use site that makes money from advertising. We have a modified experience for viewers using ad blockers

Wikia is not accessible if you've made further modifications. Remove the custom ad blocker rule(s) and the page will load as expected.