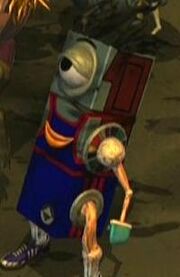 Barry is a one binome living in a Damaged System. He says he's the fastest person in the system. When Matrix and AndrAIa are downloaded into the system in a Game Cube they offer to train some of the cities inhabitants so that the Cubes won't cause more damage. Barry volunteers to go in a Game with them and be trained. He does well and they win the Game. The other volunteers were Gabby, Hardboot, Jeff, and Backup. (Icons)
Ad blocker interference detected!
Wikia is a free-to-use site that makes money from advertising. We have a modified experience for viewers using ad blockers

Wikia is not accessible if you've made further modifications. Remove the custom ad blocker rule(s) and the page will load as expected.