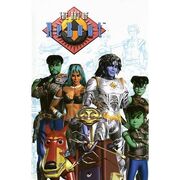 The Art of ReBoot is a book written by Dave Roberts, Gavin Blair, Brendan McCarthy, and Scott Lee. They created it just after the fourth season of ReBoot aired. The book is a cronicle of how each character in ReBoot was created, how they were originally designed to look, how they developed into their look at the beginning of the show, and how they changed through the run of the show.
The book has some of the best pictures and art work from Reboot found anywhere.
The Art of ReBoot official website
The Art of ReBoot book can be found at this link on
Ad blocker interference detected!
Wikia is a free-to-use site that makes money from advertising. We have a modified experience for viewers using ad blockers

Wikia is not accessible if you've made further modifications. Remove the custom ad blocker rule(s) and the page will load as expected.